Equip your computer with our time tracking app to optimize your workflows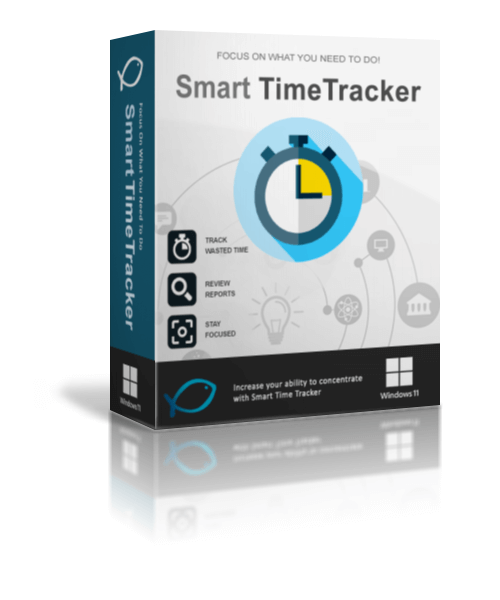 Smart Time Tracker is an easy, clean time-tracker app that gives you real data on your hours worked and productivity. Track the time you work and waste. Access detailed time reports from anywhere for immediate and actionable insights.
If you've ever found it difficult to complete a challenging task at work, start doing homework, or prepare for exams, our software can help you increase your ability to concentrate. Automated reminders encourage you to get back to work every time you procrastinate or fall victim to a time-wasting activity.
Why you need Smart Time Tracker on your computer
Track Hours Worked
Find out how much you use your computer to work and play and keep timesheets with detailed time reports.
Identify Distractions
It's easier to concentrate when you know how and when you waste time and measure the time you spend on distractions.
Improve Performance
Our time-tracking app will show you a warning each time you lose concentration, encouraging you to return to the task at hand.
How To Use Smart Time Tracker

1. Install
Install the app on your computer and create an account. Then, you can access the program at https://time.smartfishsoft.com.

2. Wasted Time Reminder
The counter will appear when you're distracted by the news, social media, chats, or games, motivating you to return to your task.

3. View Time Reports
Review time reports on your online time-tracker panel to see your achievements and discover where you're wasting time.
Wasted Time Reminder
Say goodbye to time-wasting sites & apps!
Trouble concentrating can be related to simple things you don't even pay attention to. Smart Time Tracker can help you determine where you waste your time and will warn you if you stray from your task. That means you can stay focused on work for a set time.
Time Reports
Get live visual time reports of time worked and wasted.
Do you find yourself wondering how an hour passed so quickly? What if you figured out what you did each day? Use our time reports to learn how much of a day you spend working at your computer by reviewing your timesheets for accuracy and insight. Motivate yourself to be even more productive!
Wasted Time Reports
Review wasted time reports to improve your future workflow.
Some activities can slow or prevent you from completing other daily tasks. Find out which activities are negatively affecting your performance. Smart Task Tracker counts the hours you spend on non-productive or time-wasting activities and creates reports on the websites, social media, games, etc. you use. Figure out how much time you're wasting by doing things you can avoid. Understand where you're spending your time so you can use it for more focused work.
Rules
Flexible approach
Productivity can suffer when you have unlimited communication opportunities via a wide range of social media, news, chats, forums, and other online resources. Your attention span and concentration can vary for many reasons. Use flexible settings to customize what activities can distract you. Consider trying a range of approaches to see what helps.
Try Smart Time Tracker for free
Our time tracking app can help you return to work, so don't be surprised if you feel more focused, motivated, or even creative. Smart Time Tracker fits workflows large and small. Try it now!